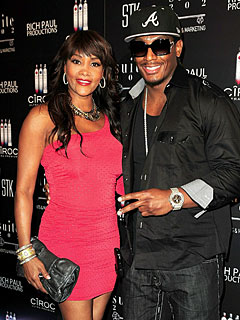 In true Cougar style, Vivica A. Fox is engaged to Atlanta club promoter Omar "Slim" White.
The actress, 46, who starred in the reality show, The Cougar, received an eight-karat diamond ring from White, 27, over the holidays.
"We did get engaged on Dec. 26," Fox tells PEOPLE. "And we are very happy!"
"She is over the moon – so excited, so in love," a source close to Fox tells PEOPLE. "She got the ring while they were staying at Ritz-Carlton, South Beach, over the holidays."
Fox and White, who have been dating more than a year, spent two romantic nights at the oceanfront hotel where they dined, went to the gym and walked along the beach.
"Vivica said she has never been happier and looks forward to living part time in Atlanta where Slim works," the source tells PEOPLE. "She was working out in the gym and had such a look of happiness and love on her face."
According to the source, White is a great guy who wants to have kids with Fox.
"They are both eager to start their lives together and have a family," the source says. "She is so excited; it is heartwarming to be around her."
This will be the actress's second marriage. She was divorced from singer Christopher Harvest in 2002.