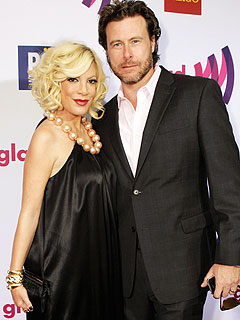 It's a girl for Tori Spelling and Dean McDermott!
"Our family's so happy 2 announce [that on] 10/10/11 [our] baby girl Hattie Margaret McDermott was born at 7:08am! Xoxo," the actress, 38, Tweeted, sharing a photo of her daughter's feet.
Baby girl weighed in at 6 lbs. 14 oz. and is 20 inches long.
Early on, they decided to keep the baby's sex a delivery surprise.
Spelling and McDermott have two other children together, Stella, 3, and Liam, 4. McDermott also has a 13-year-old son, Jack, from a previous marriage.
After announcing she was pregnant in April, Spelling told PEOPLE she and McDermott would love to have four kids, but said in September that this pregnancy might be her last.