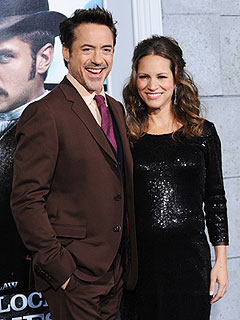 It's a boy for Robert Downey Jr.!
Wife Susan delivered son Exton Elias Downey at 7:24 a.m. on Tuesday, Feb. 7 in Los Angeles, his rep confirms to PEOPLE.
"Everyone is healthy and they couldn't be happier," a friend of the couple says.
Baby boy weighs in at 7 lbs., 5 oz., is 20 inches long and joins big brother Indio, 18, Downey's son from his previous marriage.
After announcing the pregnancy in August, the Sherlock Holmes: A Game of Shadows star, 46, revealed the sex of the baby on national television, much to his producer wife's (feigned) chagrin.
"I could never really stay mad at him, but I can tell you it genuinely wasn't something we planned to reveal," Susan, 38, later explained.

Thankfully, her husband — who will next star in The Avengers — did manage to keep quiet about their name choice.
"If I told you the name, then she would lop off my head with a machete," joked Downey.