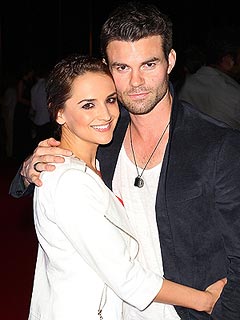 She's all that — with a baby!
Actress Rachael Leigh Cook and her husband, The Vampire Diaries actor Daniel Gillies, have welcomed their first child, the proud new papa Tweeted on Sunday.
"It's a girl. The tiny new empress of my everything . She's immaculate. We're delirious," he writes.
The couple — who announced they were expecting in May — were married in 2004, but it was only recently that the Perception star, 33, and Gillies felt ready to bring a baby into the mix.
Keep up with your favorite celebs in the pages of PEOPLE Magazine by subscribing now.
"We're both people who like kids, but we weren't jumping up and down, like, 'Oh my God, let's start that chapter of our lives,'" Cook told PEOPLE in June. "There was just so much more both of us wanted to do."
The mom-to-be — who admits pregnancy stirred up intense feelings for her husband — recently told PEOPLE.com blogger Marla Sokoloff she knew the sex, but wasn't sharing.
"We didn't plan to [find out] initially, but my husband and I have largely been apart for this thing, which was very difficult on several levels, so finding out the sex seemed like a good way to make it all seem more real," she explained.