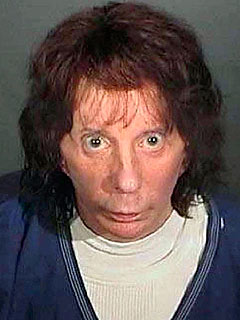 From the wall of sound to prison walls.
Legendary record producer Phil Spector was sentenced Friday to 19 years to life for his second-degree murder conviction for shooting actress Lana Clarkson.
Spector, 69, who worked with The Ronettes, The Beatles, Cher and Ike and Tina Turner, was accused of shooting Clarkson, 40, in the mouth in the foyer of his castle-like home in the Los Angeles suburb of Alhambra. The Feb. 3, 2003, shooting occurred hours after the two met at the House of Blues nightclub, where Clarkson worked as a hostess.
Spector has denied murdering Clarkson. His attorneys suggested Clarkson committed suicide. But several witnesses testified that Spector for years had bullied and tormented them with guns.
Spector was convicted in April in a retrial after a previous jury deadlocked in 2007.
Before the sentencing, the victim's mother, Donna Clarkson, told the judge she was heartbroken over the death of her daughter. "All our plans together are destroyed. Now I can only visit her in the cemetery," she said.
Clarkson's family has also filed a wrongful death lawsuit, which has not yet gone to trial.