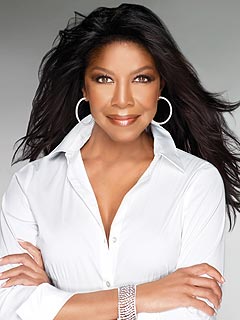 Natalie Cole has suffered a setback in her treatment for hepatitis C and has been hospitalized in New York, PEOPLE has learned.
The side effects of Cole's grueling chemotherapy treatment for the liver disease, paired with a strenuous promotional schedule in support of her just-released new album Still Unforgettable, are what led to the Grammy winner's hospitalization, her reps tell PEOPLE exclusively.
Cole, 58, was diagnosed with the liver disease in April and has been free of the hepatitis C virus since starting treatment this summer.
Doctors believe she contracted the virus 25 years ago when she abused heroin, which she documented in her 2000 autobiography Angel On My Shoulder.
She will return to her home in Los Angeles in the coming days and will be on a month-long bed rest so she can recuperate, say her reps.
She is also postponing her planned October performances.
Side effects from Cole's hepatitis C treatment include extreme fatigue and nausea. "It's debilitating," she told PEOPLE last month. "My hair is starting to fall out [from the chemo]. I lost 15 lbs. and I looked like a scarecrow."
Cole said her "the show must go on" philosophy has helped her cope with her health issues. Her new album of pop standards features a new duet with her late father Nat King Cole as well as the song "Come Rain or Come Shine."
Last month Cole also told PEOPLE she was worried about moving forward with her album and appearance schedule but was determined to see it through.
"I've worked so hard on this record – it's the first one I produced – I couldn't see pushing it back [while I went through my treatment]," Cole said. "So we're going to barrel through and kick butt. And I if I have to, I'll kick butt sitting down."