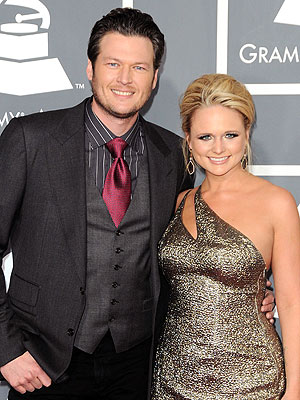 Move over, Will and Kate: Country music's prince and princess – Blake Shelton and Miranda Lambert – are now newlyweds, too.
The couple exchanged vows Saturday night at the Don Strange Ranch in Boerne, Texas, north of San Antonio. Guests included Katherine Heigl and Josh Kelley, Reba, Kelly Clarkson, Dierks Bentley and Laura Bell Bundy.
"Brilliant wedding," Tweets Lambert's co-writer Travis Howard.
The celebration went late and the menu was unique: venison, which the bride harvested herself.
The award-winning singers have been together for six years. Shelton, 34, proposed last May in the woods near Lambert's Tishomingo, Okla., home.
"I'm just excited to be married because I want to tell Blake I really can love him the rest of my life and be happy and make him happy," Lambert, 27, told PEOPLE at the time.
Shelton also aims to please. After learning his work as a judge on the L.A.-based hit series The Voice had caused Lambert to feel neglected, they decided to spend "almost the entire month of May just hanging out together," he told The Boot.
"I mean no friends, no family, just she and I just hanging out for the good part of the month," he explained. "That will be good enough for us that she'll go back to wanting to kill me again and wishing that I would go back to work [laughs].