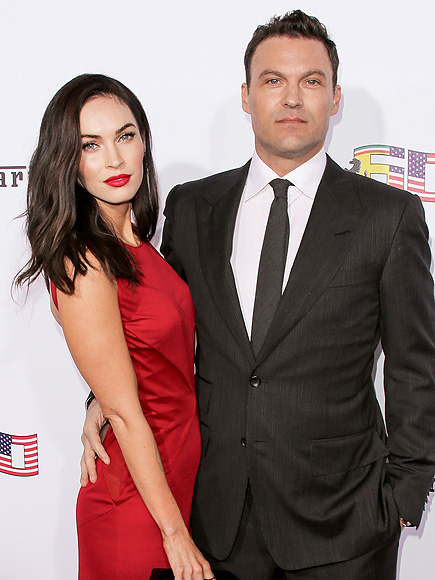 Megan Fox and husband Brian Austin Green have split after five years of marriage and nearly 11 years together.
"Megan and Brian have decided to separate," a source close to the couple tells PEOPLE. "They will always love each other very much and are devoted to their kids. Anything could happen in the future, but for now they've decided it's best to take some time apart."
The couple have been living separate lives for several months, and have not been spotted in public together recently.
Reps for the couple have not commented on the split.
The two are parents to sons Noah Shannon, 2½, and Bodhi Ransom, 18 months. Green is also dad to son Kassius, 13, from his previous relationship with Vanessa Marcil.
Fox, 29, and Green, 42, were married in Hawaii in 2010 after not one, but two engagements. Green, who met Fox in 2004 when he appeared on her show Hope & Faith, initially proposed in November 2006, only to call it off in February 2009. A source told PEOPLE, at the time, that the decision was mutual.
The pair still continued to spend time together despite publicly calling it quits, and eventually got engaged again in June 2010. They were wed 24 days later.
Just last year, the Teenage Mutant Ninja Turtles star told Men's Health that she feels relationships are never perfect.
"You can't live in a fantasyland and think that everything's going to be perfect all the time," she said. "You will go through phases where you're just not getting along. You're not communicating well. That's going to happen, and it's going to feel impossible to you sometimes. It might not even make sense to you sometimes."
Fox added that "arguments are normal" and unavoidable. Despite "difficulties," she called Green her "soul mate."
"He's definitely meant to be the father of my children. That makes it easier for me to work through things, because I always see the spiritual side of things. I look at the end game," she said.
The actress has also said she and Green are "very, very different."
"We are tolerant of each other and we try to be patient with each other, and I don't try to turn him into me and he knows not to try to turn me into him," she told Marie Claire UK in March 2013.