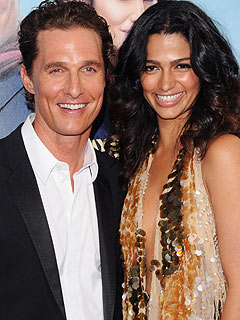 It's a girl for Matthew McConaughey and Camila Alves!
Daughter Vida Alves McConaughey arrived Sunday, Jan. 3 at 12:13 a.m., Matthew announced on his Web site. She weighed in at 7 lbs., 7 oz and joins big brother Levi, 17 months.
" 'Vida' is Portuguese for 'life' and that's what God gave us this morning," the actor blogged. "Camila's recovering wonderfully and we are both truly honored to welcome this little lady into our family. Thanks for all of your well wishes and prayers along the way, another blessed day, we give thanks."
McConaughey, 40, and Alves, 26, announced the pregnancy in June, blogging, "We pulled off the greatest miracle in the world one more time. Camila and I are expecting our second child, bringing more life into the world, making more to live for. The future looks bright as the family grows."
The couple, who began dating in 2006, chose not to find out the sex of the baby prior to delivery, just as they did with Levi. McConaughey encouraged fans to guess, however.
"Not sure if it's a boy or girl but we have our instincts," he wrote. "What are you thinking?"