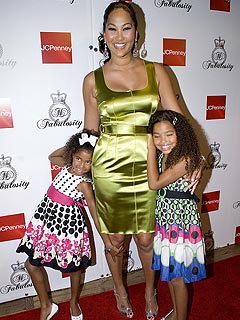 Kimora Lee Simmons has not disappointed her followers on Twitter.
After announcing the arrival of a son with longtime boyfriend Djimon Hounsou, the Baby Phat CEO on Wednesday followed up with the name of the infant: Kenzo Lee Hounsou.
Filling her 18,000 Twitter mates in on the details, Simmons revealed that baby boy weighed in at 8 lbs. and 20 inches long.
Kenzo is Simmons' third child. He joins Ming Lee, 9, and Aoki Lee, 6 ½, Kimora's daughters with Russell Simmons. Kenzo is the first child for Amistad star Hounsou, 45.