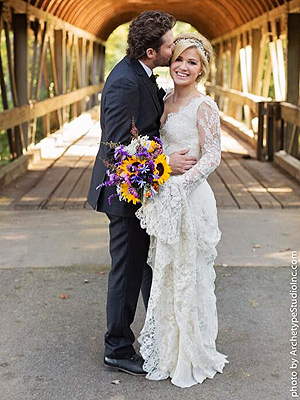 Kelly Clarkson is married!
After plenty of speculation about whether she and fiancé Brandon Blackstock would elope after they canceled their original wedding plans, Clarkson confirmed the happy news via social media on Monday, Tweeting, "I'm officially Mrs. Blackstock :) We got married yesterday at Blackberry Farms in TN, the most beautiful place ever!"
The singer shared two photos from her big day, for which she donned a long-sleeved lace gown.
Back in February, she described what she would wear at her nuptials as "my personality in a dress. A little rock 'n' roll. A little tattered. Nothing like a princess thing!
Up until her December 2012 engagement to Blackstock, 35, (who has two children, Savannah, 11, and Seth, 7, from a previous marriage), the pop singer wasn't sure she'd ever get married.
"I've only had three other boyfriends that I dated, and not really seriously," Clarkson, 31, told PEOPLE earlier this year. But when she met the music manager at a rehearsal for the American Country Music Awards in 2006, she immediately thought he could be someone special. "This guy walks by, making everybody laugh. I said, 'I'm gonna end up with him. I know it,' " she said.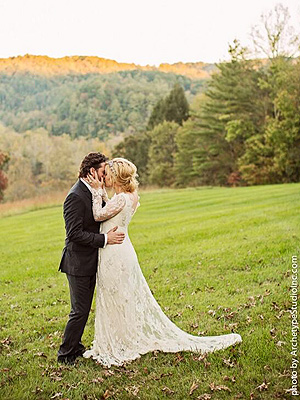 The duo had originally planned to have an "earthy" outdoor wedding in the backyard of the Nashville home that they share, but by the summer the planning had become too much and they called it off, opting instead for a low-key event.
"Our whole life is a celebration," the former American Idol winner said in August. "That's what we kept laughing about. We don't need another day where we throw a big party. We would rather have an intimate moment that's special."
Next up for the couple? A baby. Clarkson has made no secret of the fact that she's ready to start a family as soon as possible.
"When you get married, it's like official," she told PEOPLE last month. "You're starting a family and we want to have more children, so we're just excited."