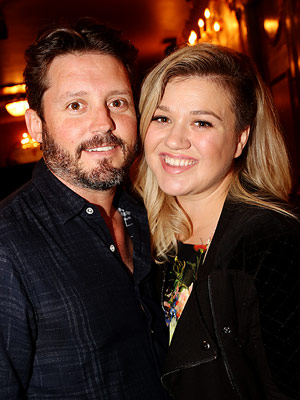 Don't let the crying fool you – they're happy tears!
Kelly Clarkson revealed that she's expecting her second child with husband Brandon Blackstock during Wednesday's Los Angeles tour stop at the Staples Center.
The surprise announcement came while the American Idol winner, 33, was making her way through "Piece By Piece." After holding back tears while introducing the song, Clarkson found herself struggling to get a handle on her emotions.
Instead, the singer stopped and told the crowd: "I was not planning on announcing this, but … I'm totally pregnant. I'm having a really hard time," she explained of her inability to get through the song, which is both a kiss-off to her father and a paean to her husband for being a good dad.
"I'm gonna nail the s— out of this song. That was not how I wanted to announce that … I hate this song right now," she joked while wiping away tears. "My makeup artist is backstage hating me right now. I just don't want you to think I'm on pills or drunk."

After finally getting through the tune, Clarkson said, "I'd like to apologize to my husband. That was not planned. I just didn't want you to think I was crazy or something. Honestly, I'm just so hormonal today. … I haven't vomited yet. That is a freakin' win, y'all."
The couple are already parents to daughter River Rose, 14 months. Blackstock is also father to son Seth and daughter Savannah from his previous marriage.
"This is going to be a fun show emotionally," Clarkson continued after singing her hit "Breakaway." "You know what's not easy to do when you're crying and choking up? Singing."
"I'm so nervous to talk to my husband," she added before covering Demi Lovato's "Cool for the Summer." "We haven't even told our [extended] family!"