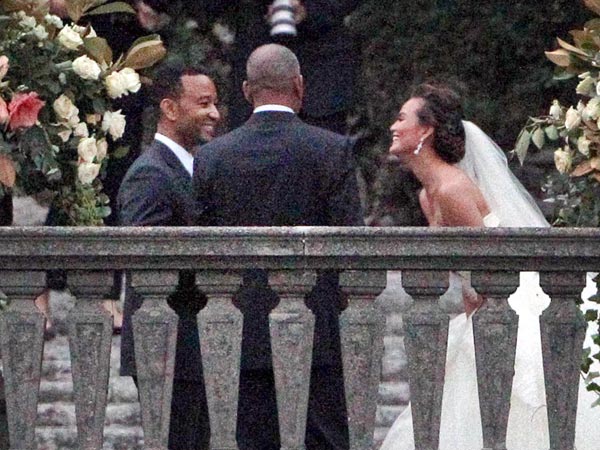 Meet Mr. and Mrs. Legend!John Legend and Chrissy Teigen made it official when they exchanged vows in front of friends and family in Lake Como, Italy on Saturday.
The model bride wore a strapless ivory Vera Wang gown with an open back, lifted tulle skirt and hand-cut petal embroidered details, which she described to PEOPLE as "kind of [having] a sexier feel at the top, like a swimsuit, so I have to get my body ready. I have to buckle down."
Teigen changed into another strapless ivory Vera Wang dress for the reception – the design featured a micro-pleated bodice and sheared organza full skirt.
And at the after-party she had a third Vera Wang design of the night – a crimson strapless mermaid gown with a hand-draped bodice, inverted flange skirt and embroidered crystal wheat detail.
The nuptials follow a seven-year courtship for the couple, who became engaged in 2011 while vacationing together in the Maldives.
Earlier this year, Teigen, 27, told PEOPLE her Grammy-winning groom, 34, would perform his new song "All of Me" at the wedding, which was written for her.
"He writes a lot of love songs, but this one is specifically about me so it makes it more special," Teigen told PEOPLE in May. "My Dad even cries when I play it for him in the car."
The model bride was so careful about preparing her figure for the frock that her bachelorette party included Pilates classes.
But despite her rigorous attention to her physique, she says she was much more laid-back about wedding planning overall.
"[John] and I have been working and traveling so much that we just let our wedding planner do everything," Teigen told PEOPLE in May. "We're not neurotic about it. I just want to finally see all of my friends in one area."
But she cops to being a bit more involved in one aspect of the wedding – the cake.
"I'm not a big sweets person, which is why I'm really specific about the cake, which is going to be a really multi-layer cake," she told PEOPLE in June. "It's layers and layers of crepe and pastry creme in between with raspberry sauce."
With the wedding behind them, perhaps now is the time the couple will start thinking about all those kids Legend told PEOPLE he wants.
"We'd like to have kids," he said in May. "I grew up in a family with four kids, so I think three or four is a good number. We don't plan it. We just do it."