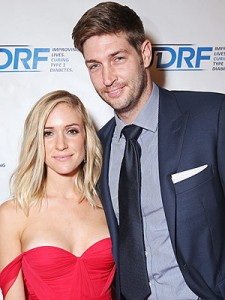 Make room in the den: Kristin Cavallari is pregnant again!
The former reality star is expecting her third child with her husband, Chicago Bears quarterback Jay Cutler, she announced Monday on the Kristin Cavallari Official app.
"We're at it again! Thrilled to announce baby number 3 is on the way! The Cutler crew keeps on growin'!" she wrote alongside a photo of her making a heart over her belly.
The couple are already parents to sons Jaxon Wyatt, 1, and Camden Jack, 2 — both of whom joined their mama in her special snapshot.
Keep up with Kristin Cavallari in the pages of PEOPLE Magazine by subscribing now.
Prior to their wedding in June 2013, Cavallari, 28, had said she and Cutler, 32, were looking forward to having two more children after their summer nuptials.
"We want four kids, so we're thinking maybe have one more, then get married, then have two more, but we'll see, it all depends on how the first one goes," she told Glamoholic in 2012 while pregnant with her first son.
But as of August, the fashion designer admitted that there were no immediate plans to get pregnant.
"Before we had children, Jay and I both wanted four, and now we're thinking three, but we're just going to have to see how it goes," she told Michigan Avenue magazine. "Right now the last thing on my mind is having another baby, but it is a ton of fun."