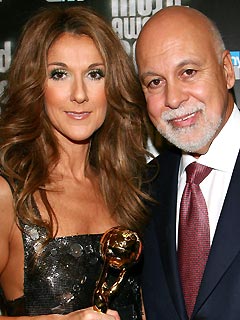 Meet Eddy and Nelson!
It took several days, but Céline Dion and her husband René Angélil have finally named their twin sons.
The name "Eddy" comes from Eddy Marnay, who produced the singer's first five records. "He was like a father to her," says Dion's rep. "Eddy is a major influence in both Céline and René's lives."
Nelson is named after Nelson Mandela, whom Dion met two years ago while kicking off her world tour in South Africa. "René said that in just the few minutes they were able to spend with him, they were impressed by the human being he is," says the rep.
"Céline and René want their children to be inspired by their names, because they were so inspired by these men," the rep adds.
Dion, 42, told French magazine Gala that the couple had been "going a little bit crazy trying to decide" on names, citing her mother's desire for French names and her eldest son, René-Charles, pushing for American monikers.
The singer, 42, gave birth to the fraternal twins on Saturday at St. Mary's Medical Center in West Palm Beach, Fla. On Wednesday, the newly expanded family headed home with three of Dion's sisters and her mom to help out.
The twins' names were first reported by Canada's TVA.