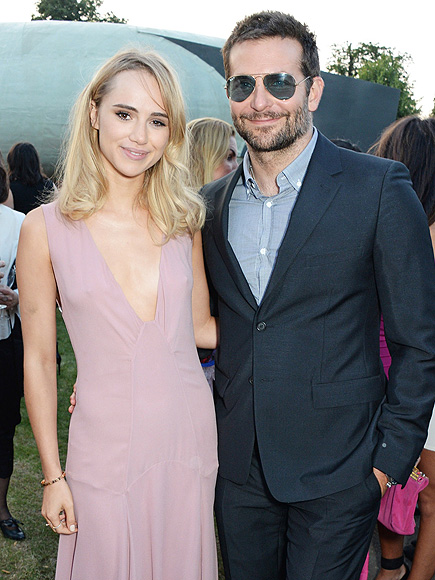 Bradley Cooper and Suki Waterhouse have called it quits.
The American Sniper actor and the model split after two years of dating, a source tells PEOPLE. Cooper's rep could not be reached for comment, while Waterhouse's declined comment.
The couple ended their relationship before the Oscars in January but remained friends and attended the award show together, the source says. They were even spotted dining at Nobu Malibu with another pal the next night, though an onlooker says they didn't seem affectionate during the meal.
Cooper, 40, spent Wednesday night at an Elton John concert, later partying at Surrender Nightclub in Encore at Wynn Las Vegas with Jonah Hill and Miles Teller as Lil Jon performed. The guys are in Sin City to shoot Arms & the Dues, a flick directed by Todd Phillips and produced by Cooper.
He and Waterhouse, 23, were first linked in March 2013, when they were photographed looking cozy on set in Boston.
Though they kept their romance under wraps, Cooper took Waterhouse as his date to the 2014 SAG Awards and she escorted him to a White House state dinner in February 2014.
The stars remained tight-lipped throughout the relationship, but in an ELLE UK interview, Waterhouse did reveal when Cooper first caught her eye: the ELLE Style Awards in February 2013.
"I don't talk about my boyfriend because it's boring," she told the magazine. "But we did meet at the Style Awards, I'll give you that. Look, maybe it's best for me to say, 'I'm not one of those girls who goes on about their boyfriends.' I do think whatever I say will sound weird. But the truth is, if I start talking about him, I probably won't be able to stop. And I don't really want to talk about him, you know?"
Both celebrities will have plenty of distractions post-breakup: Cooper is filming yet another movie, Joy, with Jennifer Lawrence, along with the Netflix reboot of Wet Hot American Summer. And besides being a fashion It Girl, Waterhouse has a part in Insurgent, out Friday.