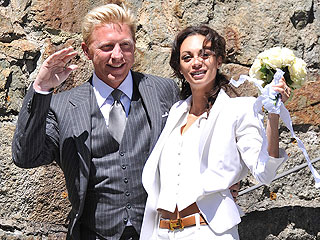 Tennis ace Boris Becker wed Sharlely "Lilly" Kerssenberg in St. Moritz, Switzerland, Friday. About 200 guests, many of them famous athletes like race car driver Mika Häkkinen and soccer legend Franz Beckenbauer, watched the couple tie the knot in the Bergkappelle, or mountain chapel, there, 6,562 feet above sea level. The ceremony was performed by Brent Fisher, 69, a Lutheran priest and native New Yorker who lives in St. Moritz.
Kerssenberg, 32, was walked down the aisle by her 80-year-old grandmother, Esseline Kerssenberg-Bradley. Becker's best man was his friend Luis Garcia Fanjul, a Mexican businessman.
Earlier in the day, a civil ceremony was performed in German, English and Swiss-German, which moved the participants to tears. "The Justice of the Peace performed the ceremony in such an emotional way that I really had to cry," Becker, 41, told the German television station RTL. Kerssenberg added, "I already started crying in the car."
The reception is taking place at the luxury hotel Badrutt's Palace in St. Moritz, and Alicia Keys is expected to perform. After the wedding, the couple will move to London, near the place of Becker's greatest glory: Wimbledon.
Three and a half months after Becker announced the engagement on German television with tears in his eyes, this is a second marriage for both. Becker was married to Barbara Feltus, who is the mother of his two sons, and Kerssenberg was married to a lawyer from New York named Michael R. Bermann.