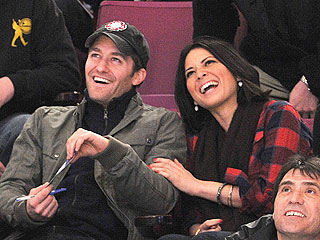 Are they the perfect couple? Matthew Morrison and Olivia Munn certainly looked close as they caught a hockey game in New York Sunday night.
The Glee star, 32, sat close to Munn, 30, who stars in the NBC sitcom Perfect Couples, cheering on the New York Rangers as they took on the Philadelphia Flyers at Madison Square Garden.
As they watched the action, Munn sandwiched Morrison's hand between hers. And in one shot, the brunette beauty leaned in for a sweet smooch.
Munn, however, might want to tread lightly. The hunky Morrison confessed to his relationship struggles just last November.
"I'm not a good friend right now. I'm not a good boyfriend," he told Details, explaining that he was placing the blame for that on his punishing work schedule.
"It's not that I'm selfish," he said. "I'm just focused."
Then again, it's likely Munn knows how to handle herself in high-profile romances – she also dated Chris Pine, though the relationship ended in January 2010.