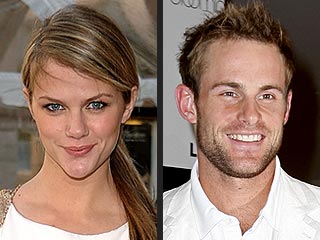 Andy Roddick married his fiancée, Brooklyn Decker, in a twilight ceremony at his Austin, Texas, home on Friday, PEOPLE has confirmed.
The tennis pro, 26, and the swimsuit model, 21, exchanged vows in an intimate candlelit ceremony before a group of close friends and family.
"They are absolutely perfect for each other," a family friend tells PEOPLE. "I think they knew that from the moment they met that they were perfect for each other."
At the ceremony, bridesmaids wore strapless, chocolate-colored gowns, and the setting was decorated with bright, tropical flowers. The bride's gown was by Vera Wang. Guests – including tennis greats Steffi Graf and Andre Agassi – were also treated to a musical performance by Roddick's longtime friend, Sir Elton John.
The wedding was followed by dinner at Roddick's local country club.
Roddick and Decker, who started dating in 2007, announced their engagement in March 2008. The pair first met after Roddick asked his agent to track down a number for Decker, who appeared in Sports Illustrated's swimsuit edition.