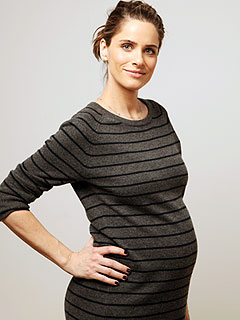 Amanda Peet ditched David Letterman on Tuesday for a good reason: She went into labor early and delivered daughter Molly June Benioff in New York.
The actress had been scheduled to appear on the Late Show with David Letterman to promote her upcoming film, Please Give, but instead late Monday she welcomed her second child with screenwriter husband David Benioff.
"Mother and daughter are doing great," Peet's rep tells PEOPLE.
Peet and Benioff also have a 3-year-old daughter, Frances.
The star recently told PEOPLE she was excited to meet the family's newest addition. "But there's been a lot of fighting going on in my household over names," she said. "Frankie is very excited. She just wants to call the baby Turtle."
Peet's film, Please Give, costarring Catherine Keener, opens in theaters April 30.