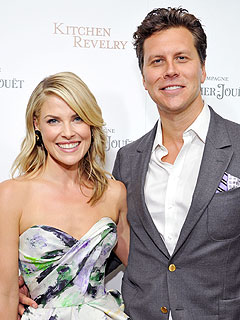 This is no urban legend:Â Ali Larter is pregnant!
The Legends star is expecting her second child with husband Hayes MacArthur, she announced during a Friday appearance on The Tonight Show.
"[Three years ago] I came on and I was pregnant and it went so well, and I said to my husband, 'I'm going on Fallon, you know what that means — gotta get pregnant!' " she said.
Host Jimmy Fallon leaned down to Larter's baby belly, saying, "Hey buddy! I can't wait to meet you! We're going to be friends."
"It's so exciting. It's such a scary time and I've been trying to hide it as much as you can, and when you're in the public eye it's really scary in the beginning," she explained.
"I was still shooting my spy drama … I had to be a covert spy in my real life, too, so I'm wearing blazers and push-up bras and everything you can do to distract."
Larter, 38, wed the writer at his family estate in Kennebunkport, Maine, in 2009, and the couple welcomed their first child, son Theodore Hayes, now 3½, in 2010.
"We've told him about him, and I actually will say, 'Teddy, wait, it's talking to you,' and he'll be, 'What Mom, what's going on?' And I go, 'It says that it loves Batman and was wondering if it can watch it with you?' He goes, 'Oh my God, Mom! Batman, I can't even watch it, can I watch it with the baby?' "
After giving birth to her baby boy, Larter told Health magazine it took "working out a lot" — and five months — to lose the pregnancy pounds.
"It's hard to impress me with a body that hasn't had a baby. Have a baby and then let's talk," the actress and cookbook author joked.