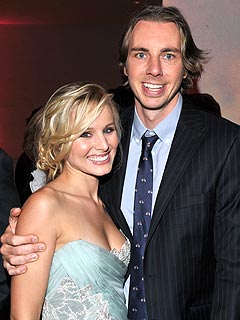 Kristen Bell and Dax Shepard had something even shinier than a Grammy to show off on the red carpet of the Staples Center Sunday night: her engagement ring.
The couple, who've been together for years and currently costar in the romantic comedy feature When in Rome, are getting married.
Bell's rep, Marcel Pariseau, confirms to PEOPLE: "Yes they are engaged. Over the holidays."
Shepard, 35, has been on the TV shows Punk'd, My Name Is Earl and the upcoming Parenthood. Bell, 29, is best known for her role on Heroes. Both hail from Michigan.
The secret to their great relationship both off and on the set? "I've learned the necessity for healthy communication. How important it is to talk about your deepest, darkest fears and feelings," Bell – who in April 2008 was shooting down rumors that she and Justin Timberlake were an item – told Women's Health last fall.
"Your partner should hear your most embarrassing insecurities, because once you say them out loud, you've created a safe zone."
And one more thing: "A snuggle party can fix anything – it's true."